i☆Ris
is a Japanese idol group formed in 2012 which consists of six idols, who are the voices of the main characters in PriPara, and sung eight OPs;
Make It
, 
Miracle ☆ Paradise
,
Realize!
,
Dream Parade
,
Bright Fantasy
,
Goin'on
,
Ready Smile!!
and
Shining Star
. They've also sung the ninth ED;
Growin' Jewel!
. They are managed under Avex Entertainment. The girls also won first place for the Best Musical Performance in the 10th Seiyuu Awards for their performance in
PriPara Live Musical: Reach everyone! Prism☆Voice
, which was the first PriPara live musical.
Discography
Singles
Albums
04/03/2013 : Cover☆Ris (カバ☆リス)
04/08/2015 : We Are i☆Ris!!!
04/20/2016 : Th!s !s i☆Ris!!
Members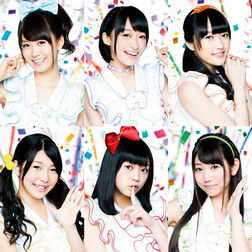 Gallery
Singles
Anime
In-Game
Music Videos
Live Broadcasts/Appearances
I☆Ris - Live Broadcasts/Appearances.
Trivia
i☆Ris have performed anime OPs and EDs for the following anime:

Battle Spirits: Sword Eyes (バトルスピリッツ ソードアイズ) ending 1.
Mushibugyo (ムシブギョー) ending 1.
Hantsu x Trash OVA (ハンツーxトラッシュ) ending.
Pretty Rhythm Rainbow Live (プリティーリズム・レインボーライブ) ending 2.
Saikyo Ginga Ultimate Zero Battle Spirits (最強銀河究極【アルティメット】ゼロ ~バトルスピリッツ~) ending 2.
Sousei no Onmyouji (双星の陰陽師) opening 2.

Yu Serizawa, who voices Mirei, also voiced Fukuhara Ann from Pretty Rhythm Rainbow Live.
Iris means rainbow in Greek, and is also a type of flower.
Awards
Ad blocker interference detected!
Wikia is a free-to-use site that makes money from advertising. We have a modified experience for viewers using ad blockers

Wikia is not accessible if you've made further modifications. Remove the custom ad blocker rule(s) and the page will load as expected.