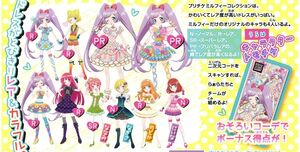 July 2014 Millefeui Collection Vol.1 is the first wave of PriPara clothes for the arcade game. The featured brands were Twinkle Ribbon, Candy Alamode, Holic Trick, Dreaming Girl and Pretty Rhythm . This collection was released July 2014. This collection also features coord recolorments of all the Pretty Rhythm main protagonists' clothing.
Coord List
Trivia
Ad blocker interference detected!
Wikia is a free-to-use site that makes money from advertising. We have a modified experience for viewers using ad blockers

Wikia is not accessible if you've made further modifications. Remove the custom ad blocker rule(s) and the page will load as expected.