Morning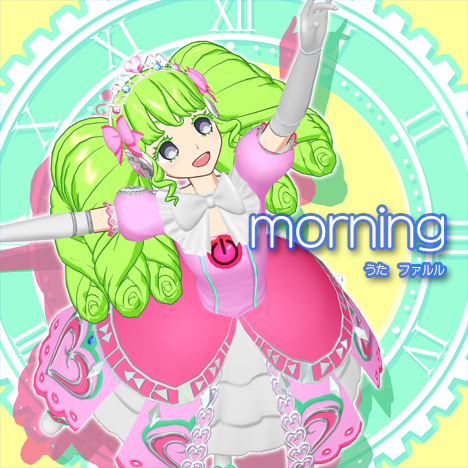 Morning (stylized as morning) is a song sang by Faruru. It was first announced on November 28th, 2014.
It is unknown whether it has been scheduled for an anime debut. It was released as a playable song for the arcade game in early December 2014.
Performers
Lyrics
Chikkutakku kurikaesu byō shin
Uta tane no dōru
Haguruma sabite

Me kurukuru
(Kaoru odoru)
Inochi no nokku
(Hoshī shigeki)
Otozureta

Karappo no kuse ni ganji gara matta
Ito o chigiri ochite shitta
Kono hoshi no yasashisa

Koko janai basho e yukou
Chikakute tōi
Yume no soto e watashi wa dare?
Ne~e namae o tsukete

Me, mimi, kuchibiru kara
Merodi kokochi ī hibiki
Kaoru odoru azayaka ni
Temaneki shiteru
Makkana ano mi wa wana ne

Kamo ne shigeki hoshī
Naisho de hitotsu mo giru no

Yosete kaesu amai nigai
Kin to gin ga yobu wa mezame
Ohayō saisho no hāto

Ibuki mebuita sekai
Warui koto yoi koto aru wa demo
Subete ni hagu& kisu
Aishitai
チックタック くりかえす びょうしん
うたたねの ドール
はぐるま さびて

めくるくる
(かおる おどる)
命のノック
(ほしい しげき)
おとずれた

からっぽのくせに がんじがらまった
糸をちぎり おちてしった
この星の やさしさ

ここじゃない場所へ ゆこう
近くて遠い
夢の外へ 私はだれ?
ねぇ 名前をつけて

め、みみ、くちびるから
メロディ ここちいい ひびき
かおる おどる あざやかに
てまねき してる
真っ赤な あの実は ワナね

かもね しげき ほしい
ナイショで ひとつ もぎるの

よせてかえす 甘いにがい
金と銀が よぶわ めざめ
おはよう さいしょの ハート

いぶき めぶいた 世界
悪いこと よいこと あるわ でも
すべてに ハグ&キス
あいしたい
Trivia
On the picture, Faruru has her arms in a 90 degree angle, which is supposed to represent the hands of the clock in the background.
Gallery
Ad blocker interference detected!
Wikia is a free-to-use site that makes money from advertising. We have a modified experience for viewers using ad blockers

Wikia is not accessible if you've made further modifications. Remove the custom ad blocker rule(s) and the page will load as expected.