PriPara: Everyone's Longing! Let's go PriPari!
(

プリパラ み~んなのあこがれ♪レッツゴー☆プリパリ

PriPara Mi~nna no Akogare Let's Go PriPari

)
is the 3rd PriPara film. It follows Laala and her friends trying to save the PriPara world. It was released Spring on 12 March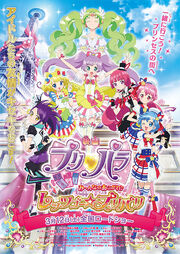 2016 and Blu-ray & DVD on 30 September 2016 
Synopsis
The sparkle is disappearing from the Idol sacred ground! Faruru sends Laala, Mirei, Sophie, Shion, Leona, and Dorothy an SOS message, pleding with them to help save PriPara. If the sparkle doesn't return, then PriPara will disappear.
Plot
TBA
Characters
Mascot Characters
Music
Theme Song
Insert Songs
Triva
Gallery
Ad blocker interference detected!
Wikia is a free-to-use site that makes money from advertising. We have a modified experience for viewers using ad blockers

Wikia is not accessible if you've made further modifications. Remove the custom ad blocker rule(s) and the page will load as expected.