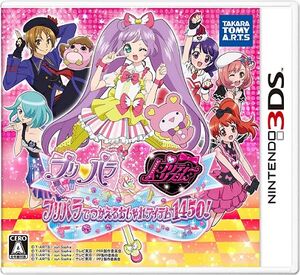 "PriPara & Pretty Rhythm: PriPara de Tsukaeru Oshare Item 1450!" (プリパラ&プリティーリズム プリパラでつかえるおしゃれアイテム1450) is a 3DS game featuring a PriPara and Pretty Rhythm collaboration. It was released on March 19th, 2015.
Development
Ciao magazine announced that PriPara and Pretty Rhythm would receive a crossover game to be released in March 2015. Hints have been dropped such as Laala being able to perform a Prism Jump, and the Pretty Rhythm cast using PriPara coords. More information will be revealed in Ciao's next issue, which is set to be released in January.
Gameplay
The game features Prism Shows and PriPara Shows as modes. Characters from both series can crossover to each others modes. It's assumed that the gameplay will be rhythm based.
There are 1494 coords to collect in game. 1472 of the available coords are from the Pretty Rhythm games and the other 22 are from PriPara. Of the Pretty Rhythm coords, there are be 1418 types of clothing items, 10 types of glasses, and 44 types of makeup.
1450 of these coords will be usable by QR code in the PriPara arcade game. (The 44 types of makeup will not work in PriPara.)
Story
Not much is known about the story at this time. However, it is known that it will be an original story focusing on PriPara star Laala Manaka and Pretty Rhythm: Rainbow Live character Hiro Hayami becoming Prism Show Idols.
Cast
PriPara
Pretty Rhythm: Aurora Dream
Rizumu Amamiya
Mion Takamine
Serena Jounouchi
Kanon Toudou
Kaname Chris
Penguin
Pretty Rhythm: Dear My Future
Reina Miyama
Karin Shijimi
Ayami Ooruri
Hye In
Chae Kyoung
Shi Yoon
Jae Eun
So Min
Pretty Rhythm: Rainbow Live
Ann Fukuhara
Ito Suzuno
Bell Renjouji
Wakana Morizono
Otoha Takahashi
Rinne
Juné Amou
Hiro Hayami
Kazuki Nishina
Kouji Mihama
Momo
Release
The game is slated for release on March 19th, 2015. The price is 3,980 yen (around $36) for physical copy and 3,480 yen (around $32) for download. Physical copies will come with three limited edition PriTickets for the Prism Link Memorial Coord and two Friends Tickets for Faruru and Laala.
Trivia
Hiro Hayami will be will be the first male character ever playable in a Pretty Rhythm game.
This is the first crossover for Pretty Rhythm and PriPara on the video game platform.
The 1450 in the game's title relates to the fact that only 1450 of the 1494 coords in game are usable in the PriPara arcade game.
Gallery
Official Arts
Character Profiles
Ad blocker interference detected!
Wikia is a free-to-use site that makes money from advertising. We have a modified experience for viewers using ad blockers

Wikia is not accessible if you've made further modifications. Remove the custom ad blocker rule(s) and the page will load as expected.