Welcome to the PriPara Wiki!
We have 124,941 edits to 1,881 articles and 17,449 images on this wiki.
We also have 125 active users and 4 admins.
Please feel free to Edit the Articles and Add more Images!
If you are ever in need of assistance, please click this link. If you are a new editor, please read the Wikia Rules! It won't take long, we promise!
If you don't know where to start editing, click ''here'' for a list of basic wiki jobs! 
A big thank you to all of the editors here, this wikia now has 1500+ pages!
This Wiki was created on April 4th, 2014.
PriPara (Prism Paradise) is the sister show to the popular Pretty Rhythm series. The first episode aired on July 5th, 2014.
The new anime is set in the PriPara world, filled with girls' dreams for fashion, dance, and music. Every day, there are auditions that send top idols to worldwide fame on television and online. However, Laala's school prohibits Pri-Para for elementary school children. An unexpected chance leads Laala to make her first entrance into the world of PriPara, where she will make her debut. PriPara is also a new game which is replacing Pretty Rhythm. Like Pretty Rhythm, PriPara has an anime which is based off of the game, and has a story line to it. The main characters, Laala, Mirei, and Sophie, are also on the game.
This show is completely owned by Takara Tomy. All anime information and anime art belongs to them. For more info, here's their official site for PriPara! http://www.takaratomy-arts.co.jp/specials/pripara
Season 1
Season 2
Season 3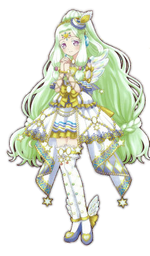 Our featured page is Jewlie!
A mysterious figure in charge of giving Idols the Cyalume Baton and leading them down the path of Divine Idol. She is the alternate form of the mysterious baby, Jewlulu.
Now That we Saw Chiri, are you Happy About It?
Which Idol-Type would you Be?
Pripara Arcade Game:
All the coords from the Divine 2016 Vol.3 Collection have been released for the game!
Four new brands are currently in the works: Twinkle Ribbon Sweet, Sunny Zoo, and the return of Dear Crown!
Three new Idols will be arriving to the game soon: Non Manaka, Pepper Taiyo, and Chiri Tsukikawa
Anime & Media:
Season 3 Started on April 5th, 2016

Games: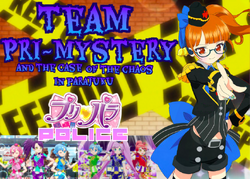 Sign ups Open!
The newest event coming to the PriPara Wiki is Team Pri~Mystery and the case of the Chaos in Parajuku! This is a mystery event where users will be given mysteries to slove and rank up to become the best Detective Idol!

For information about the rules and information, please view this page Thread:73667
Here's the newest OP, and we're proud to present you Brand New Dreamer!
Create blog post
Blogs
Hello everyone =) as many of you know I've created the PriPara PriPuz page, the page is nearly complete all that is left is to add the cards but the way in which they will be added is still being dis…

Read more >

Ok, so I wanted to make one of these coord Fantasy challenges.

Here's how the game goes: I ask you 2 questions about coords, like 'which would you wear' XD. You can write your answers in the comments.…

Read more >
See more >