Welcome to the PriPara Wiki!
We have 156,278 edits to 2,233 articles and 30,013 images on this wiki.
We also have 128 active users and 3 admins.
Please feel free to Edit the Articles and Add more Images!
If you are ever in need of assistance, please click this link. If you are a new editor, please read the Wikia Rules! It won't take long, we promise!
If you don't know where to start editing, click ''here'' for a list of basic wiki jobs! 
A big thank you to all of the editors here, this wikia now has 1500+ pages!
This Wiki was created on April 4th, 2014.
PriPara (Prism Paradise) is the sister show to the popular Pretty Rhythm series. The first episode aired on July 5th, 2014.
The new anime is set in the PriPara world, filled with girls' dreams for fashion, dance, and music. Every day, there are auditions that send top idols to worldwide fame on television and online. However, Laala's school prohibits Pri-Para for elementary school children. An unexpected chance leads Laala to make her first entrance into the world of PriPara, where she will make her debut. PriPara is also a new game which is replacing Pretty Rhythm. Like Pretty Rhythm, PriPara has an anime which is based off of the game, and has a story line to it. The main characters, Laala, Mirei, and Sophie, are also on the game.
This show is completely owned by Takara Tomy. All anime information and anime art belongs to them. For more info, here's their official site for PriPara! http://www.takaratomy-arts.co.jp/specials/pripara
Season 1
Season 2
Season 3
Season 4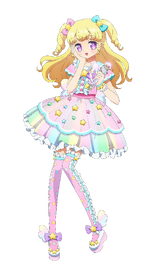 Our featured page is Yui Yumekawa!
Yui is the new protagonist of Idol Time PriPara who tends to daydream a lot, often causing her to be late for important events. She attends Avocado Academy and is roommates with Laala.
How Do You Feel About Laala Aging Up When She Goes To Perform now?
Who Do You Want To See Debut Next In The New PriPara??
Pripara Arcade Game:
All the coords from the Divine 2016 Vol.6 Collection have been released for the game!
Three new brands will be released in April 2017: Fantasy Time, Neon Drop, and Melty Lily!
To go with this, Yui Yumekawa, Nino Nijiro, and Michiru Kota will be playable.
Anime & Media:
Season 4 is starting April 2017

Games: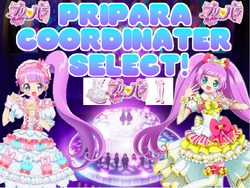 Currently In Progress!
PriPara Coordinater Select! is an event where users will coordinate a variety of events in PriPara which includes live shows, auditions, and many more!

For information about the rules and information, please view the official PriPara Coordinater Select page. For entering the event, please visit the official sign up thread.
The new OP for Idol Time is titled Just be yourself, which was also the ending for the newest movie "PriPara Everyone Shine! Sparkling☆Star Live!".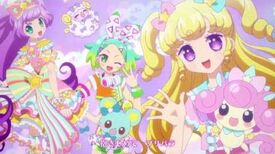 Create blog post
Blogs
Hello PriPara fans! I have decided I want to write a fanfiction as a crossover for Aikatsu Stars! and PriPara because I love these two so much! The story will be written on fanfiction.net under the n…

Read more >

well if you wanna see my costume finally finish hihi all i has is a video  here:at 1hours 50 i should be there hihi!!! 

https://www.facebook.com/costumecon35/videos/1172126172892753/




well thats all for…

Read more >
See more >
Ad blocker interference detected!
Wikia is a free-to-use site that makes money from advertising. We have a modified experience for viewers using ad blockers

Wikia is not accessible if you've made further modifications. Remove the custom ad blocker rule(s) and the page will load as expected.