Welcome to the PriPara Wiki!
We have 188,393 edits to 2,802 articles and 39,050 images on this wiki.
We also have 74 active users and 2 admins.
Please feel free to Edit the Articles and Add more Images!
If you are ever in need of assistance, please click this link. If you are a new editor, please read the Wikia Rules! It won't take long, we promise!
If you don't know where to start editing, click ''here'' for a list of basic wiki jobs! 
A big thank you to all of the editors here, this wikia now has 1500+ pages!
This Wiki was created on April 4th, 2014.
PriPara (Prism Paradise) is the sister show to the popular Pretty Rhythm series. The first episode aired on July 5th, 2014.
The new anime is set in the PriPara world, filled with girls' dreams for fashion, dance, and music. Every day, there are auditions that send top idols to worldwide fame on television and online. However, Laala's school prohibits Pri-Para for elementary school children. An unexpected chance leads Laala to make her first entrance into the world of PriPara, where she will make her debut. PriPara is also a new game which is replacing Pretty Rhythm. Like Pretty Rhythm, PriPara has an anime which is based off of the game, and has a story line to it. The main characters, Laala, Mirei, and Sophie, are also on the game.
This show is completely owned by Takara Tomy. All anime information and anime art belongs to them. For more info, here's their official site for PriPara! http://www.takaratomy-arts.co.jp/specials/pripara
Season 1
Season 2
Season 3
Season 4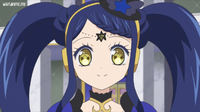 Our featured page is Galala•S•Leep!
Galala is the spirit of the night, the complete opposite of Falala•A•Larm, who is the spirit of the daytime. Galala hates being in charge of the night with no one around, so she and her manager Pakku have taken the dreams of girls to prevent Falala from waking up.
What do you think of Shuuka?!
Which Pair is your Favorite?
The new OP for Idol Time is titled Just be yourself, which was also the ending for the newest movie "PriPara Everyone Shine! Sparkling☆Star Live!".
Create blog post
Blogs






















Does anybody know if this is a new movie or season or team?

Please answer this

Read more >

In the last 6 days, some good person has subbed 5! S2 episodes and continues doing so for the rest of the S2. We have only 4 episodes left unsubbed now of S2. Anybody knows who the person is so we co…

Read more >
See more >
Ad blocker interference detected!
Wikia is a free-to-use site that makes money from advertising. We have a modified experience for viewers using ad blockers

Wikia is not accessible if you've made further modifications. Remove the custom ad blocker rule(s) and the page will load as expected.