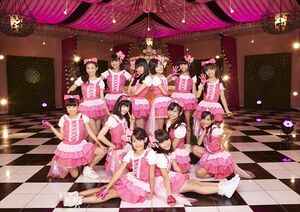 Prism☆Box is a Japanese idol group licensed under Avex Entertainment. They sang PriPara's second ED, Shining Sparkling Runway ☆. This unit is combination of the two idol groups Prizmmy☆ and Prism☆Mates.
History
TBA
Discography
RainBowXRainBow (April 24, 2013)
Happy Star☆Restaurant (February 26, 2014)
Members
Current Members
Kanon Hagino
Hina Miyazaki
Natsu Asakura
Mirei Takahashi
Yuka Takayanagi
Runa Suzuki
Momona Aoki
Airi Hamamura
Sana Ishii
Mia Kusakabe
Karin Takahashi
Reina Kubo
Hina Miyazaki
Ayami Sema (former)
Trivia
Prism☆Mates' Mirei shares her name with an anime character in PriPara, Mirei Minami.
Prism☆Mates' Mirei is sisters with Prizmmy's Karin.
Two of their songs have been used for ending themes of Pretty Rhythm Rainbow Live

RainBowXRainBow is used as the first ending song for Pretty Rhythm: Rainbow Live.

RainBowXRainBow is their debut song.

Happy Star☆Restaurant is used as the last ending song for Pretty Rhythm: Rainbow Live.
Videos
Ad blocker interference detected!
Wikia is a free-to-use site that makes money from advertising. We have a modified experience for viewers using ad blockers

Wikia is not accessible if you've made further modifications. Remove the custom ad blocker rule(s) and the page will load as expected.