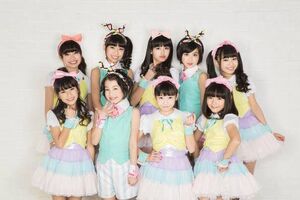 Prism☆Mates 
are a Japanese idol group that is managed by Avex Entertainment. They haven't been promoted as a unit much, but they are promoted as 
Prism☆Box
, which is a combination unit with 
Prizmmy☆
.
History
TBA
Discography
Singles
Dancing Doctor - Mirei and Kanon (November 6th, 2013)
Glory Days - Hina and Runa (November 6th, 2013)
Pojikaru World - Natsu and Yuka (December 11th, 2013)
Chocolate Paradise - Momona (February 14th, 2013)
Zutto Mo! Zoo
RainBowXRainBow (April 24, 2013)
Happy Star☆Restaurant (February 26, 2014)
Members
Current Members
Kanon
Natsu
Mirei Takahashi
Yuka
Momona
Airi
Sana
Hina Miyazaki (also in Prizmmy☆)
Former Members
Mia Kusakabe (went to Prizmmy☆)
Karin Takahashi (went to Prizmmy☆)
Reina Kubo (went to Prizmmy☆)
Ayami Sema (went to Prizmmy☆) 

(Graduated on April 30, 2014) 

Runa (Graduated on May 2, 2015)
Trivia
All members of Prizmmy were once part of Prism☆Mates.
Prism☆Mates' Mirei is Prizmmy's Karin's sister.
Despite being a part of Prizmmy☆, Hina is still concidered a member of Prism☆Mates
Videos
Ad blocker interference detected!
Wikia is a free-to-use site that makes money from advertising. We have a modified experience for viewers using ad blockers

Wikia is not accessible if you've made further modifications. Remove the custom ad blocker rule(s) and the page will load as expected.